The standard sizes of RV garage doors are 16 x 8 feet. But since not all recreational vehicles have the same size, you might have to order a custom made door to meet your requirements. Some RVs are extra tall and thus the standard headroom won't be enough. Always remember that such large vehicles are never flexible. If they hardly fit to go through the opening and there is a landscape slope, you might have a hard time driving in or out. In this case, the available RV garage door sizes might not be right for you.
It's always helpful to have a professional by your side to share information and give advice. When you contact Garage Door Service and Repair Inc in Houston, Texas, we send an expert to your assistance. If the size for RV doors won't work for you, a pro will recommend custom sizes.
A pro can help with RV garage door sizes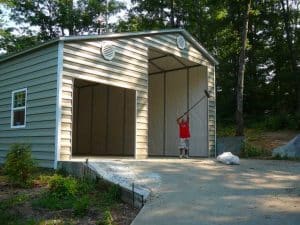 Not only do RVs occupy a lot of space but also need plenty of room to pass through the opening. A professional garage door inspection is what you need. A tech can take measurements and check the existing structure to tell you if an RV garage door can be installed. Since RV doors are extra-large, they need sufficient space in the garage. So if you bought an RV now and are interested in replacing the existing door with an RV door, you need the assistance of a pro that won't only check the structure but also offer the best solutions for you. Call GDS Repair to send a local specialist to help you.
The price of RV garage doors depends on several factors
Call us to get a new garage door estimate. The price of new RV doors ranges based on whether you choose the standard or custom size. And then the price tag will also depend on the door type & material as well as the opener. Most RV garage doors are rollup and sectional. The good thing with sectional and roll up doors is that they hardly occupy any space leaving the opening clear from obstructions.
Is this a new garage? Find out which RV door will fit right
If you intend to construct a garage now, we can still help. A pro will tell you whether or not the RV garage door sizes meet the needs of your vehicle or you should consider custom sizes. And so you will be able to build the structure accordingly. Keep in mind that roller doors have their barrel at the top part of the opening. Sectional doors utilize tracks installed on both sides of the opening. With the help of professional techs, you can be sure there will be enough space for your RV. And you will be certain of the correct RV garage door installation. So get in contact with us today if you need more information or assistance.